Normally, I post recaps of games filled with GIFs, but
I'm as excited about football as Ron Burgundy was the first time he met Veronica Corningstone, and I'm barely doing a better job of hiding it in the work place. Thus, a post to help you get your Horn, er, Horns up if you don't already.
If you're like me, you've likely had this conversation a few times recently. Hopefully, you weren't on the wrong side of it:
"Is Texas going to be any good this year?"
Me: "Yes"
Casual-at-best Football/UT fan: "Really? Why? You sure the new coach is going to make that much of a difference?"
Me: "Yep"
Ignorant person: "How good? How many wins do you think they'll get"
Me: "9, maybe 10"
...
9 wins, really? Yes, I do believe that. Here are 3 reasons why, and of course, with GIFs:
1. Herman > Strong
2. UT's schedule
3. Our players (with GIFs!)
1. Herman > Strong (Bold statement, I know)
Look, I'm no more an unqualified talking head than 95% of football opinion-ators out there, and I get paid less than 100% of them for my opinion. Regardless, you're here, and hopefully the 2 coaching corollaries I'm about to share will make your football heart flutter for Herman like mine does for him.
1st corollary - He is very detail oriented
Like my extremely successful high school football coach, Herman is aware of and has a plan for everything.
While I know you don't care about my high school career, my coach took a school that never won more than 4 games to 4 straight championship games in his
first
4 years at the school. Immediate turnaround. Sure it's high school and not college, but it's about the process and what it takes to turn around a program and achieve immediate success. I won't bother you with how my coach was very detail oriented, but he was, and I experienced it for those 4 years (and so did ex-Longhorns Derek Lokey and Ishie Odweugu). I can tell you it was crucial to our success in addition to having talent (those guys, not me) like the Horns do.
Examples of Herman being detail oriented, which if you watched any games last year, I think it goes unsaid that Strong was not a very detail oriented guy beyond his 5 core values. (While these examples are all off-season related, I have no doubt they will translate to game prep and in game situations).
Just to name a few:
1. Hiring a staff that rivals Ohio State, Bama, and Michigan
- Including an awesome creative director, who is constantly creativing videos and graphics. (Check out Matt Lange on Twitter.) The impact it's had on recruiting is undeniable - we're ranked #2 for 2018 (#RevolUTion) after a 5-7 season and a coaching change
2. Allowing Malik to focus on being a better player, teammate, and leader
-
If you hadn't heard, Malik had a stronger bench than squat when Herman arrived. Sigh.
3. PJ Locke forgetting his water bottle
-
Related to hydration - check out these charts
4. Delaying allowing the players to enter the brand new locker room because of one piece of trash
It may seem tough to see how some of the above will actually transfer to the field, but a couple other things that were either talked about in forums (or sadly, I can't find the articles to) include:
- Stronger and in better shape - As a team, they've shed 500 pounds of fat, added 380 pounds of lean muscle mass, and back squat max went up average of 70 pounds in Herman's 8 months.
- Harder hitting - The Herman staff measured hard hits in the '17 Spring vs. '16 Spring (under Strong). 1,167 hard hits under Herman compared to only 472 hard hits under Strong.
2nd corollary - He instills a tough-love culture
Like my friend's (and fellow Orangeblood) stepdad, who happens to be an extremely successful junior college basketball coach, Herman loves his players, but isn't trying to be best friends with them. This b-ball coach has won 2 national titles, including an undefeated season, in the last 10 years.
He uses tough love and discipline to instill a culture of success, just like Herman is doing.
It may not be the only way to have a success program, but I think it's what this program needs after Mack's country club like atmosphere and then Strong and his almost best-friend like relationships with the players.
Herman has stated he believes it's his assistants' jobs to be the players friends, and his job to be their dad. This article provides more color to his tough-love approach.
2. UT's Schedule
In short, the Big 12 is down, and we should definitely be going into USC with a 2-0 record. Strong was close to winning 3 of the games we lost last year, which would have put us at 8 wins. Back to my point of Herman being much more detail-oriented, and having a more seasoned squad, I think it is very probable, and won't be surprised if it's double digit Ws.
To win 9, you can only lose 3, so which games could be losses, with my predictions: (If I didn't include the game, it's because I'm confident it's a W)
@ USC - Early and on the road, prediction = L
vs Kansas State - At home will help = W
vs OU - Lincoln Riley is the coach and Herman handled OU with a lesser UH squad last year = W
vs Okie Light - Sadly, I think there will be a slight Red River hangover = L
@ TCU - Just don't think they're that good= W
@ West Virginia - I'm not even that convinced we'll lost to WVU, but it's away (could swap with OU) = L
*Note, I didn't include Baylor, because woof
Sat, Sep 2
vs

Sat, Sep 9
vs

Sat, Sep 16
@
Get a new Texas Longhorns Nike Dri-Fit hat for the season.
3. Our Players
Don't forget, with the exception of D'onta (and don't get me wrong, he was O-MAZING!), pretty much all of our best players have returned. Watch the GIFs below and let your emotions flow freely...
(In no particular order, and apologies for the different sized GIFs. And by the way, I didn't even put a GIF of Connor Williams, one of the best tackles in the country.)
- PJ Locke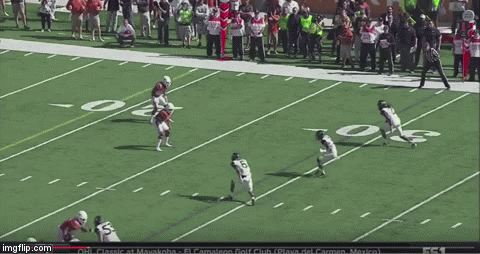 - Colin Johnson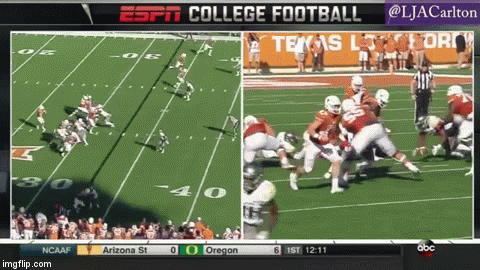 - Duvernay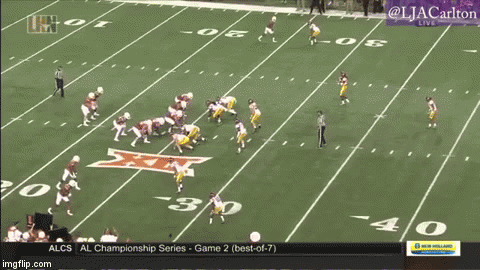 - Roach
- Malik
- Hager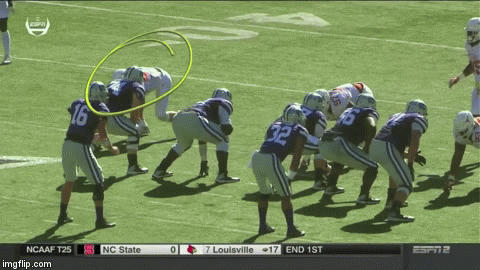 - Buechele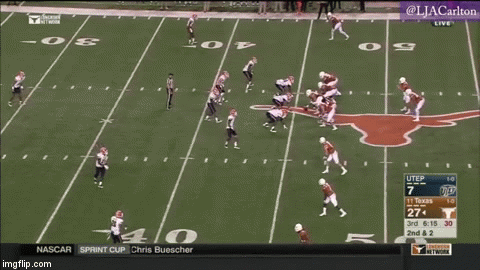 - Shark
- Bonney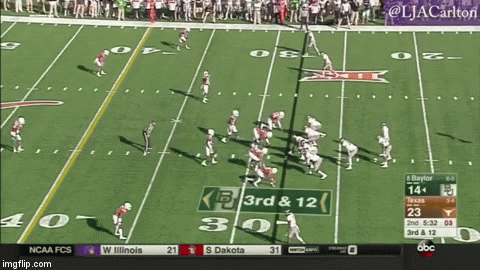 - Boyd