Quick intro/disclaimer: I'm not an aspiring writer or journalist, and am no more qualified to analyze football than your average Joe who played high school football in Texas. I'm literally "just another Longhorn fan", but I'd like to share my UT football opinions on a weekly basis with GIFs for a more pleasurable viewing. (If anything just scroll down to the GIFs and ignore everything I say.)
Apologies for not posting on the win at Texas Tech. I have excuses, but they smell bad, and I'm sure you don't want to hear them anyway.
Week 10 - This is why you have to do your best to numb your emotions when Charlie Strong is your head coach (who knows how much longer that will be for). Just when there was a glimpse of 8-4 (maybe 9-4 with a bowl win), and thoughts of him actually turning it around, he loses another close game in frustrating fashion. On one hand, you can argue most of our losses were close and against decent to good teams, but on the other hand, most of our wins have been against teams with losing records, and only 2 were by a decent margin.
Sure, West Virginia is a pretty good team, but we beat them in every meaningful category except the one that matters most - points. Out-gained them in yards, fewer penalty yards, and fewer turnovers. Still, 3 things came to mind when thinking about why we lost this game: blitz execution, personnel, and finishing drives.
If you watched Houston shellack Louisville, you saw how great blitzing can totally change a game. Granted, Houston also got pressure without bringing extra men on occasion, but they were constantly confusing Louisville's O-line and had Lamar Jackson corralled and frustrated the entire game. (I think you know why I'm referencing Houston - how the next month plays out will be very interesting!)
Blitz execution:
I said we won every team category that mattered except for points, but I lied, there were 2 others: sacks and QB hurries. WVU had 4 sacks and 3 hurries to our 2 sacks and 1 hurry. In a game that could have swung the other way on the last play, these stats matter, especially when 1 sack causes a fumble in the redzone.
Watch these two plays below. Almost identical plays by both teams in nearly similar situations. In fact, UT had a more favorable situation (3rd and 5 as opposed to 3rd and 9). These 2 plays had a huge impact on the game, especially Buechele's fumble.
UT's unsuccessful blitz: Timing - look how slowly the LBs get started and get to the line of scrimmage compared to the WVU LBs on the next play (one caveat - Malik's injury was very significant.) Blitz pickup - WVU's RBs don't carry out the fake that well, but instead make sure to pick up the blitzers whereas Foreman carries out the fake and completely misses the WVU blitzer below. Safeties - our safeties don't anticipate the pass as well as WVU's safeties in the play below, which I think caused Buechele to hold on for a second too long (not that he had enough time anyway).
WVU's very successful blitz: They're already moving before the ball is snapped. The clapping signal is too easy to anticipate. It might not be Foreman's responsibility to have that blitzing LB - Perkins literally blocks nobody, so that is probably his responsibility. Regardless, we had enough guys, but there were 2 burnt orange jersey blocking nobody. Ugh.
Offense:
We've seen it before, this offense puts up a lot of yards between the 20's and can't seem to finish at a high enough rate considering we have a crappy kicking game. I didn't hate the play call on the first drive. Buechele just missed a throw that he's made several times this year for a TD. Fine - I guess a true freshman QB is allowed to not be perfect. Still, frustrating to not finish a great drive with a TD. The poor time management at the end of the 1st half, and the unfortunate fumble on the blitz above are 2 more examples of gobbling up (<-- almost Thanksgiving, see what I did there!) a ton of yards, getting into the redzone and not scoring a TD. 6 points in 3 trips to the redzone will hurt you in a tight game, and it really was the deciding factor in this game.
Q1 - Buechele missed TD
Very obvious here, but throwing anything to Burt beyond a go route is assanine. Why throw to him? Shoot, we don't even need to throw go routes to him, see the plays below by Dorian Leonard, at least he can make a play on the ball. This is my only personnel qualm on the offensive side. CJ and Leonard should be on the outside at all times, and if they get tired, put Armanti out there.
Q3 - Burt's hands costing us: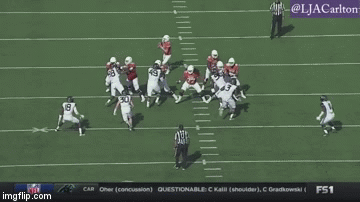 Q3 - CJ's TD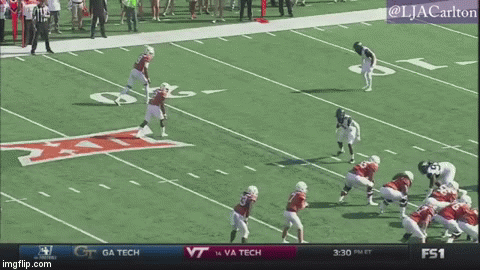 Q4 - Leonard's first great catch. Nice body control, adjustment, and hands. No mas Burt por favor.
Q4 - Leonard great catch in traffic.
I had to throw the shovel pass to D'onta in here, because we don't do enough to get the ball into our best player's hands in the passing game. I'll miss him on Saturdays, but I'm going to enjoy watching him on Sundays next year.
Defense:
Obviously, the injury to Malik was big. It forced us to mix in all the other linebackers, and personally, I think if healthy, it should be Malik on every play and Freeman on most plays. The Shark (McCulloch) has a little ways to go, and Wheeler just isn't cutting it for me anymore. I've already expressed how I thought Freeman is better in pass coverage and he should be in the game more, and here are near identical plays with vastly different outcomes with Wheeler and Freeman. That's my main personnel beef with the defense. While the coach staff can't account for Malik's injury, they were playing Wheeler/Shark on the last WVU scoring drive (see blitz above), and that's just frustrating.
Overall, our D played well and has improved from the start of the year, but unfortunately it wasn't enough. They did get put into some tough situations, and created a lot of turnovers, but we just couldn't turn TDs into field goals like their defense did to us.
Q1 - Wheeler can't stay with slot WR. This might be a slightly tougher play than Freeman's below, but he's just too slow to run this coverage.
Q3 - Freeman with great coverage, which leads to one of Haines' INTs.
Q2 - Again, Wheeler is just too slow to have much impact in pass defense, and we ask our LBs to do a lot of it.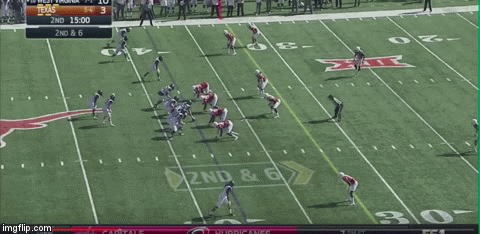 Here are a couple nice plays by Locke, who looks to be playing with more and more confidence each week. We were getting torched on screens at the beginning of the season, but this is a nice aggressive play by him.
Q1 - Locke blowing up a screen.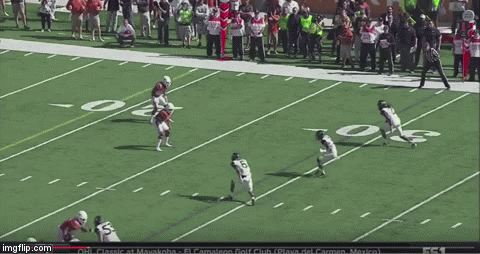 Q3 - Locke's INT - 2 things I love about this pick. 1 - he was beat on this same route earlier, so it shows his ability to adjust and improve during the game. 2 - great hands for a DB (maybe he should play WR before Burt?)