Quick intro/disclaimer: I'm not an aspiring writer or journalist, and am no more qualified to analyze football than your average Joe who played high school football in Texas. I'm literally "just another Longhorn fan", but I'd like to share my UT football opinions on a weekly basis with GIFs for a more pleasurable viewing. (If anything just scroll down to the GIFs and ignore everything I say.)
Week 6 - Sorry for not posting about OU and being late with these last few posts. Ok, enough about me. The Iowa State game felt like we were in the "Upside Down" (Stranger Things reference in case you haven't watched it yet). What I mean is the defense consistently did its job while the O didn't get firing on all cylinders until the 2nd half. Who expected a 6-3 half time score? I know I didn't.
I think the question going in to tomorrow's game against K State is - is the D figuring it out/turning it around, or was the ISU performance fool's gold? Iowa St did put up 42 and 31 in back-to-back weeks against Baylor and at Okie Light, respectively, so that's some evidence toward the former. However, we've watched this defense give up too many yards and too many points to assume everything is peaches after one game.
Before I get into the GIFS, here are my thoughts for that question:
Figuring it out/Turning it around
- Boyd and Bonney at CB: I really don't think either are that great at man cover, but they're both aggressive and tackle well. Our other corners hadn't been covering or tackling, so at least these guys bring something to the table. As long as our DBs can keep from busting coverages (poor coverage is one thing, but no easy rides to the endzone please), tackle well, and attack screen plays, our D will look much better.
- Pass rush: 8 sacks, niiiice! Better than the total amount of sacks was the amount of sacks/pressure we got with a 4 man pass rush (this also helps the DBs). Hughes played one of his best games in a while, and Omenihu/Roach/Hager continued to bring it off the edges. The interior d-lineman also got great push up the middle on pass plays, which we hadn't seen a lot of.
- Less rotating: The starters at LB and CB played pretty much the entire time until the game was out of reach. I realize the DB situation hasn't been solidified, but the LBs should never have been rotating unless they were absolutely gassed, so thankfully, we saw less of it this last game.
Fools gold
- Average competition: While ISU did put up points on Baylor and OSU, it really appeared as if they shot themselves in the foot quite a bit. I saw a handful of wrong routes run, which led to the QB holding the ball and a sack. There were also a handful of errant throws, and what seemed like mixed signals on the pass blocking scheme. It did appear like we were beating them across the board, but they definitely made it easier on us.
- Missed opportunities: Not nearly as many missed tackles as we have seen in recent weeks, but a few uninspiring plays from some of our top players (Malik missed sack below) doesn't reassure that we've turned the corner. Finally, and no surprise here - we lost the turnover battle, ugh.
Kris Boyd playing aggressive. Yes, he gets too many dumb penalties, but at least he's not playing scared.
(Q1 - Boyd pass break up in the redzone. Sure, a better WR would have held on, but at least he was there.)
(Q1 - Boyd big hit. Well timed even if he didn't wrap up.)
(Q2 - Boyd recognizes the screen and avoids the block, something our other CBs can't seem to do on screens.)
Pass rush.
(Q2 - Hughes flying by the RT for the sack. Awesome by him, but that RT looked like Sheroid Evans trying to make a tackle.)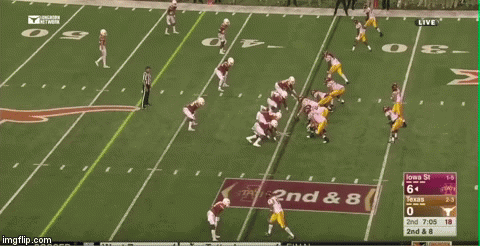 (Q1 - 2 true freshman in on the sack. Hager starts it against that awful RT, but hey, the future is bright!)
(Q1 - Elliott with the clutch stop inside the 5. Stands his ground and makes the tackle. His injury will hurt us, but at least he has 3 more years.)
(Q2 - Malik missed sack. How Malik doesn't bring him down here is beyond me. He must be better, that's not Big Ben or Cam Newton.)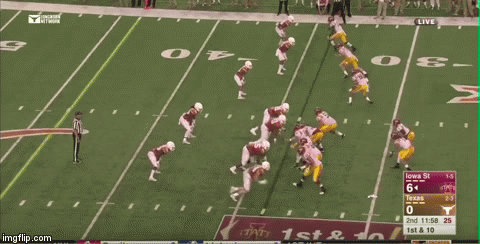 Offense. A couple TDs from the O to get excited for tomorrow. Hopefully we see this in the first half.
(Q3 - Duvernay TD. Watch Buechele look left and take the safety to the single WR side. They're playing Cover 3, and the single CB got caught in a situation that our CBs have got caught in several times - 1 guy trying to cover 2 guys. Looking left by Buechele also ensures the CB goes with the outside WR on the post. Great call, throw, and catch.)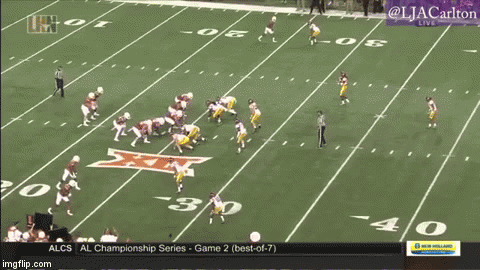 (Q3 - Foreman TD run. Love how a RB that big forces a safety to take such a bad angle with his speed. We've yet to see him catch many passes out of the backfield, but he reminds of me of the Cardinals' David Johnson - great feet and speed for a big back.)