Quick intro/disclaimer: I'm not an aspiring writer or journalist, and am no more qualified to analyze football than your average Joe who played high school football in Texas. I'm literally "just another Longhorn fan", but I'd like to share my UT football opinions on a weekly basis with GIFs for a more pleasurable viewing. (If anything just scroll down to the GIFs and ignore everything I say.)
Week 4 - ... (<-- That's me at a loss for words). By this point you've read or heard so much about when, not if, Charlie will be fired, and the likelihood of getting Tom Herman from Houston. I'm going to refrain from getting caught up in that conversation (at least on this blog) as that debate is likely to be settled within the next several weeks if not days.
Being that I'm at a loss for words, I'm going to keep my writing (otherwise known as gibberish) short on this post. There's really nothing new to share. Defense was BAD - two weeks to prepare, and we looked even worse than we did against Cal. Watching our PAT unit was as uncomfortable as watching Michael on The Office for the first time. Offense still put up a ton of yards, but maybe finishing drives a little better and not starting series with Swoopes and bringing in Boo-shell on 3rd down to throw a pick (same thing that happened at ND) wouldn't hurt.
Since we're not winning the national championship this year, maybe we can still beat OU, who still sucks. Surprisingly, Charlie has had good game plans/execution against OU (though he can't say the same for Iowa St. - weird.) So let's root on our Horns against OU tomorrow and let the future take care of itself.
Here are gifs with thoughts from OSU:
- Linebacker play - not just the secondary, was unimpressive, and that includes Malik. I really think Wheeler had one of his worst games.
(Q3 - Wheeler is near side LB. Unless that's a poorly timed/executed blitz, Wheeler guesses on this play, and completely takes himself out of it.)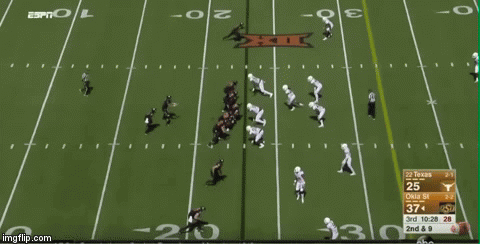 (Q1 - Malik is playing two-hand touch when everyone else is playing tackle (kidding, most of our secondary also played two-hand touch last Saturday). That wasn't Lamar Jackson that shook him.)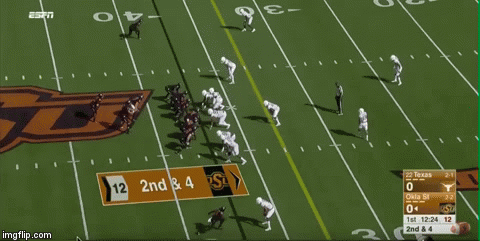 (Q1 - Wheeler with the great effort again. Vaccaro's effort was even worse.)
- Scheme and Def. play calling - We must be tipping our hand too easily on what type of defense we're playing, because every time we had a zone called, it seemed like OSU called the perfect play. It doesn't help that our players haven't executed any type of zone defense well this season. If we're not going to stop running zones, we need to do a better job of disguising it. Charlie took over this week for Bedford (finally), but we'll see if it's a change for the better, or more of the same very soon.
(TD Pass against zone - great call/execution by OSU. Not surprising that we were out-coached on this side of the ball)
(TD pass after hurry up - defense unprepared. I'm not sure if this is a busted coverage, or OSU dictating our coverage with hurry up (not allowing a defensive play call), and picking the right play against it. It looks like both players are playing zone, but maybe the Safety should be in the middle third and not shaded toward the single wr side. Regardless, there needs to be better preparation on coverage scheme for uptempo/hurry up plays like this.)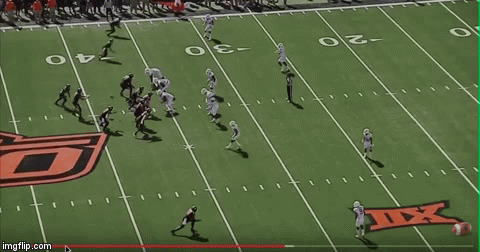 - Personnel
- No more Sheroid Evans! Please! Great story, and I'm sure he's a good kid, but the guy tackles like Deion Sanders and covers like the exact opposite. This week's released depth chat shows he won't be starting, but he really shouldn't see the field at all anymore. I also don't love how much we rotate our secondary/linebackers in general. Defensive line is where rotating players is needed, but at the other spots, the best players need to be playing as much as possible.
(Q2 - Evan's playing 8-9 yds off, not breaking on the play, and getting stiff-armed to the ground)
(Q1 - Evans scared to tackle on the TD pass. Should have been tackled at the 37.)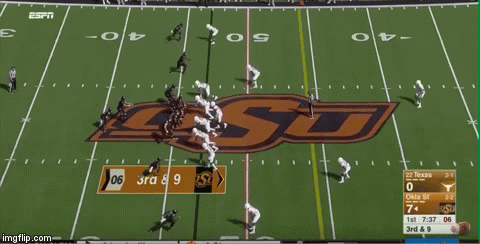 (Q1 - Boyd being aggressive on the screen. I know Boyd has his own issues and he should be behind Hill and Davis, but seeing a little nastiness from our corners is much needed.)
- There's hope (hopefully?) - Yeah we did some good things, and we have players that can make plays, so here are some UT highlights to get excited about OU, and to keep this from being an OSU blog. OU SUCKS!
(Q1 - Hall's first sack. Crushes the RB and makes the sack on the blitz. I really like him near the line - not as much 15 yards off of it.)
(Q1 - Leonard with the nice hands catch and turn for a near TD. Give me a step or two slower than Burt, but better hands.)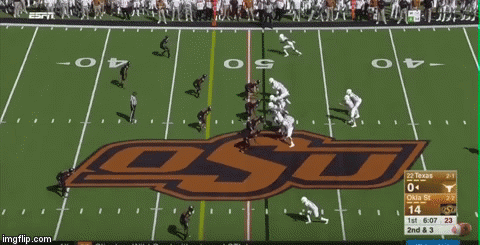 (Q3 - Foreman TD because big dudes with breakaway speed are awesome and I love him, and so do you.
)