Quick intro/disclaimer: I'm not an aspiring writer or journalist, and am no more qualified to analyze football than your average Joe who played high school football in Texas. I'm literally "just another Longhorn fan", but I'd like to share my UT football opinions on a weekly basis with GIFs for a more pleasurable viewing. (If anything just scroll down to the GIFs and ignore everything I say.)
Week 3 - Back to life. Back to reality. Welp, the burnt-orange kool aid was tasting good, real good. But here we are coming off a lackluster defensive performance to say the least, and if you're like me, you've probably hit every emotion on the "Fire Charlie" to "We'll be fine" spectrum. Maybe even twice.
Before I address the game, I want to address the aforementioned spectrum. At the end of this year will Charlie stay or will he be gone? It seems very #kneejerk to think about firing a guy after just one close road loss, but maybe the real knee-jerk was anointing UT as "Back" after one win against a ND team that just lost at home to Mich St. by 8. Remember when we beat OU last year? Remember when we got throttled by Iowa St (24-0) two games later? That got me thinking about Charlie's key wins and losses. You can disagree, but in my opinion these were the most uplifting/egregious on either side:
Key wins:
1. #10 OU - 24-17 (Neutral) '15
2. #10 ND - 50-47 (Home) '16
*3. #12 Baylor - 23-17 (Away) '15 - *4th string QB - I firmly believe either 1st or 2nd QB (Russell/Stidham) would've beat us handily
Key losses:
1.
Iowa St - 0-24 (Away) '15
2. BYU - 7-41 (Home) '14
3. Arkansas - 7-31 (Bowl) '14
4.
Cal - 43-50 (Away) '16 - We're ranked #11 and favored by 7.5
5. Texas Tech - 45-48 (Home) '15
6. WVU - 20-38 (Away) '15
7. TCU - 7-50 (Away) '15
How Charlie stays:
- He figures out how to defend an uptempo offense
- I hate that he said he's getting more involved now. It feels the same as firing Shawn Watson after-the-fact. Be more involved/prepared beforehand. He was acclaimed for his defensive prowess at Florida, but he didn't coach against the current Big 12 style of offense. Can an old dog learn new tricks?
- The young guys step up and start making more plays, including freshman (ex. B Jones)
- UT finishes 8-4 and shows up in the bowl game win or lose unlike last year (I'd personally set the bar at 9-3, but that might be a little aggressive.)
- Think about it, UT is currently 2-1, and will unquestionably beat Kansas, so 3-1. This means he only has to go 5-3 against the rest of a down Big 12, and essentially finish 4th in the conference, which will probably only have 2 ranked teams by season's end.
Why Charlie could be gone:
- It's year 3, and his half of the game (defense) seemingly hasn't shown any improvement
- What about the youth? Gilbert turned the offense around in 1 offseason and 3 games with a freshman QB, and a ton of sophomores. No more excuses. Defense better be a whole lot better in Big 12 play.
- Tom Herman. Familiarize yourself
- Herman is the current Houston coach. He's 5-0 against ranked opponents (2 wins vs top 10) in 2 years at Houston, and was the OC at Ohio St when they won their national championship 2 years ago with a 3rd string quarterback. Also, he has Texas ties, and recruits the state very well. He got the best DT in the state (5 star) to go to Houston. HOUSTON!
- Most importantly, it's said on some insider forums that Herman has a short list of 5 schools he'd leave for. Texas is on that list, but so is USC, and they're having a terrible year. FYI, we play USC the next 2 years. (The other schools on the list have pretty solidified HC situations)
In sum, can Charlie right the defensive ship, and how long is his leash with Herman likely only being available after this season?
Personally I love the guy. I have a picture of me and him on my cubicle wall at work. However, I love UT football more, and I want us to be back to the point of rolling over the teams that we should.
Quick aside - i
f you flip-flop the scores of the ND and Cal games, we'd actually be looking up. We would have barely lost to a (supposedly) superior ND team with a new offense, and we'd have had a nice road win and a two game winning streak going into conference play - essentially improving upon last year. Instead, the ND win put high/unreal expectations on this team very quickly, and the complete dog doo of a defensive dud on Saturday has us feeling like Strong might only be half the head coach we need - Great recruiter/player developer, terrible strategist/in-game manager.
The Cal game
I think in just about everyone's opinion, this game really came down to the defense not getting it done. Sure the O turned the ball over a couple times, and maybe we should have run a little more (especially on the last drive when we went 3 and out without a run). But this one was clearly on the D, and most specifically the secondary.
We gave up 8 pass plays of 20+ yds (20 is somewhat the standard benchmark for a "big play"). For reference, we gave up 3 total plays of 20+ yds against ND. Originally, I was going to post GIFs of all 8 plays, but Barking Carnival already broke them down so well with so much depth, so I'll pick a few different plays. Regardless, check out that breakdown when you're done - BC defensive breakdown. It's really well done.
Instead, I'll give some brief grades with thoughts on the Offense, Defense, and Special teams.
Offense: B- - Frankly, the O did enough to the win the game, but it wasn't perfect by any stretch. The 2 INTs were bad throws by the QBs and let Cal stay in the game, and not running it on 1st or 2nd down (when averaging 7 yds/carry) on the last drive were the biggest blemishes.
Run Offense: A - Would be an A+ except San Diego St. had a higher yards/run the week before against Cal,
and we had a couple of drive-killing holds.
Just want to point out that I prefer a 2-1 ratio of Foreman to Warren carries from now on. Warren is tough up the middle and solid in his own right, but he doesn't have the burst that Foreman does. See them hit the hole at different speeds on virtually the same play.
(Q2 - Foreman with burst)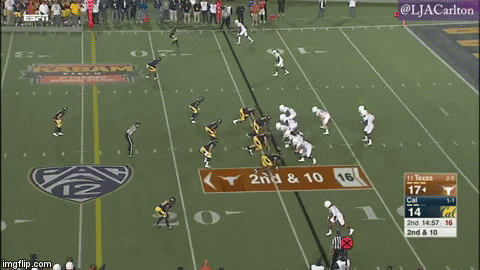 (Q3 - Warren not as much burst)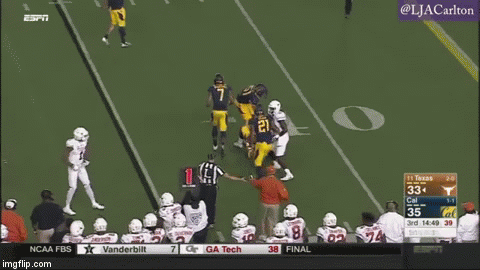 (Q4 - To have some positivity in this post - Foreman's TD run. Mucho burst.)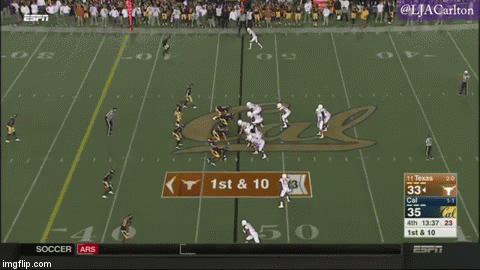 Pass Offense: B- - 2 bad throws for INTs, and a few costly drops, but a couple big plays as well. Buechele wasn't quite as on point on his deep passes as he was in the first 2 games.
Buechele INT - 2 things to point out. 1. No QB is perfect, and generally he misses his deep throws long and outside, so the safety can't pick it off like in this play. 2. When was the last time you saw a UT safety make a similar play? Can't wait for Hall/Haines to be gone.
Last Drive Playcalling:
1st play - Why not run? Blueitt split out is a key to the defense that it's going to be a screen, since we only use him as a blocker. At least keep Oliver in there to not tip your hand. See how the defender who makes the play immediate runs up at the snap - he knows what's coming. Out-coached on the play.
2nd and 3rd plays - Still don't know why we didn't run it on 2nd down. 3+ min left is plenty of time, and we could have made 3rd and potentially 4th down short yardage plays. Also, we're keeping in 6 guys to block 4, why? Oh yeah, because Blueitt is on the field. We literally run the same play again with the exact same results. This is actually a GIF of consecutive plays. You're better than that Gilbert.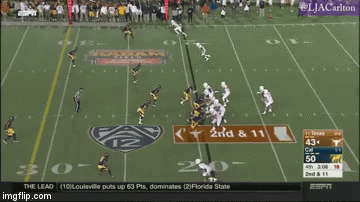 Defense: D - They were bad from all 3 factors: strategy, play calling, and execution. The D wasn't able to create a turnover, and has only 1 in 3 games. If it weren't for the run D, I would have given it an F. The word in the insider forums is that B Jones will be starting at safety against Ok St. and they're switching some other things up to (hopefully) get more playmakers on the field. Again, if you want to relive the agony of a terrible defensive performance broken down really well, check out this post on Barking Carnival.
Here are a couple screen shots of the Cal/SD ST stats, and the Cal/UT stats. What pops out to you?
To me, it's that SD ST lost to Cal in almost all key team stats, except for one very important one: Turnovers. Their offense turned the ball over twice too, but their D was able to intercept Webb 3 times even returning one of for a TD.
Run Defense: B - If you take away the last long run, we only gave up 60 yds on the ground. Once he got past the first down, those extra yards didn't really matter. I wouldn't get too butt hurt about Enwere dropping the ball before crossing the line either - we shouldn't have needed that to win, and who knows if we could have scored anyway.
Pass Defense: F - Can I give it an F-? Does that exist? Think about this, this is the second time we've faced this exact offense, and we often face similar ones. Our entire secondary except for Duke Thomas returned. Our DC, Bedford, is also the defensive backs coach. Cal just lost their QB (#1 pick in the draft), and their leading 6 receivers. Who did we get torched by then (1 QB, and 4 top WRs): A graduate transfer QB, an ex-Idaho St transfer (great plays by Hansen, but we made him look like Antonio Brown), a JuCo transfer (Veasy), and 2 true freshman. Everyone except Hansen was playing their 3rd game in a Cal uniform. Un-be-lievable.
Special Teams: B - The 2 missed FGs were 53 and 49 yds, so can't be too upset about those. B Jones punt block for a safety was huge (too bad it wasn't for a TD). Dickson was actually out kicked by Cal's punter, and our KO return game wasn't as good as Cal's either (18 yd avg vs. 28 yd avg).
Let's end on a positive. Word is the #19 combination of speed/playmaking ability will be roaming around on defense at one of the safety positions in Stillwater.
(Q2 - B Jones punt block)