Quick intro/disclaimer: I'm not an aspiring writer or journalist, and am no more qualified to analyze football than your average Joe who played high school football in Texas. I'm literally "just another Longhorn fan", but I'd like to share my UT football opinions on a weekly basis with GIFs for a more pleasurable viewing. (If anything just scroll down to the GIFs and ignore everything I say.)
Week 2 = A+. A+? Seriously? Yes I am if you take into account the curve that the class (aka, the Big 12) set with a dumpster fire weekend. Also, UT sat 5 offensive starters: 3 OL (Shackelford essentially sat - he left very early with ankle injury), TE - Caleb Blueitt, and RB1 - D'onta Foreman. So what if UT was only up 10-7 with roughly 6 min left in the 1st half, they accomplished the 3 main goals when playing a substantially inferior opponent early in the season:
1. UT covered the spread (+30, especially nice after a very emotional win and a short week to prepare)
2. No major injuries (Shack will be back this week)
3. A LOT of freshman played
That being said, there were still a few things that made me raise an eyebrow, but overall, there were a lot of things I loved.
Things that made me raise an eyebrow
- Buechele taking hits: Shane looked great, no question. If this was only Shane GIFs and none of my gibberish, I could probably make some bank with Google Adsense, but that's not why we're here. (<-- Good idea though amirite?!) YouTube is the ointment for that itch. Back to my qualms with Shane/the coaching staff - Shane ran 11 times, was sacked 3 times, and was hit/taken to the ground about 2 or 3 other times after he released the ball, which essentially nullify the few times he slide on runs. That's roughly 15 hits on your 18 year old (barely looks old enough to drive) and 190 lb quarterback who has already proven to be the most important piece of the offense in just two games. The sacks are a result of having a much lesser Rodriguez at LT instead of the resting starter, Williams. But, he pulled the ball too many times, didn't slide enough, and was taken out of the game a little too late. He took a hit in the redzone in the 4th quarter when UT already had a 34-7 lead. Unnecessary. Coaches should make him run after practice the following week for every time he pulls it after 5 runs in games like these. Of the "things that made me raise an eyebrow", this carries the most weight by far.
(Q2 - Shane takes hit after poor "juke")
- Depth at Oline: This is obvious, but if you watched the first half, you could see 40% of the starting offensive line is not nearly as good as 100% of the starting line. In particular, Rodriguez giving up back-to-back sacks in the 2nd quarter just can't happen. Not a major concern though as all of our starting oline except Perkins will be back next year, and our freshman class is loaded with talent. It's unlikely any of the 3 backups who started will be full time starters in the future, but lets just hope that our freshman olineman can get game-ready as quickly as possible just in case they're needed.
- The TD run: UTEPs RB is a good player, and his speed showed on that play. And frankly, one big play/TD is nothing to get bummed about. I just don't like the poor performances by 3 specific Horns on the play. As you can see below, our highest ranked DT recruit, J Elliott #55, gets blocked at the point of attack quite easily. LB Cole #30 (and Malik's backup) is unblocked but diagnoses the play poorly and doesn't lay a hand on the RB, and one of our future starting safeties, De Elliott #4, takes a poor angle. 2 negative Elliott's doesn't equal a positive.
(Q1 - Jones TD run slowed down)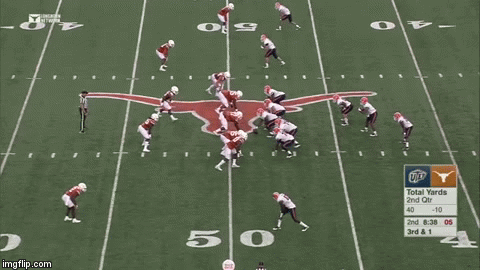 Things I loved
- WR Depth/Willingness to block:
- Depth: In the entire 2015 season, 5 different receivers caught a TD (6 if you include tight end Blueitt). In 2 games in 2016, 5 different receivers have caught a TD. More than numbers, the actual play of the receivers show that if 1 or even 2 guys go down, we won't miss a beat.
(Q3 - Burt? Nope, Leonard. Awesome.)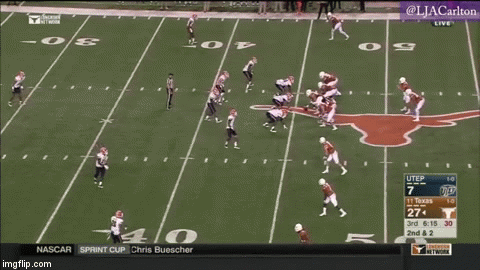 (Q4 - Heard's 2nd TD)
If you've been paying attention, this is our 3rd TD in 2 games on this exact play. Pay attention to outside WR #9 Johnson on the play, he fakes a block and runs up field. Notice he's wide open if he keeps running toward the back of the endzone. They're setting that future TD to the outside WR over the middle beautifully. Can't wait.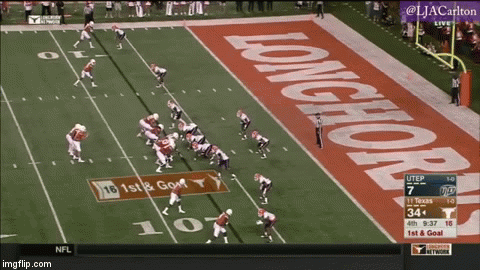 - Willingness to block: Usually receiver blocking is emphasized in the run game. The idea behind WR blocking is that a 15-20 yard run becomes a 50+ yard TD run with good WR blocking. But, in our new offense, the plethora of quick throws to the outside are only as successful as the receivers who are willing to block. And so far it seems that all of them are more than willing, which is an impressive feat considering most of these receivers didn't get recruited to block.
(Q3 - Leonard block on Warrick catch and run - great how he stays on block for 3 seconds)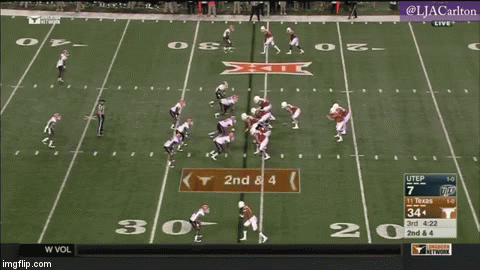 And speaking of Warrick...
- Warrick: Jacorey Warrick is the only senior in the receiving corps. He had more receptions and yards against UTEP than he had in ALL of 2015 (7 - 71 yds, 1 TD) vs (6 - 35 yds). Furthermore, tight ends Beck and Blueitt had more receptions than Warrick in '15 - both had 8. Remember when we had an offensive coordinator who preferred throwing the rock to heavy-numbered guys (#47 and #42) instead of super shifty and quick light-numbered guys (#11)? Man, those were the days. Anyway, Warrick makes the first guy miss on almost every catch, and as you see above and below, his YAC (yards after catch) abilities are really going to make this offense go.
(Q4 - Warrick YAC)
- Fish playing and making plays: As I mentioned above, this game was successful because we got to see our highly touted freshman got to see a lot of game action, much of which was in the first half with first-teamers. Here's a great list of who played and how they fared. This is great for recruiting too - what recruit doesn't want to join a fast rising team, and know they'll get a chance to contribute as a freshman. But, here were my favorite plays by freshman not named Shane.
- Malcolm Roach had arguably the best game of all the non-Buechele freshman. Great sack in the first quarter, and was disruptive on other plays. But, I love this play. #32 (LB on the nearside) was a 3 star defensive end recruit, is listed at 6'2" 260 lb, and can diagnose and close on plays like a solid linebacker... as a freshman. Love it when poor recruiting ratings work in our favor. Big boy can move.
(Q4 - Roach playing LB)
(Q1 - Jones blocked punt - future starting safety, and big play early in the game)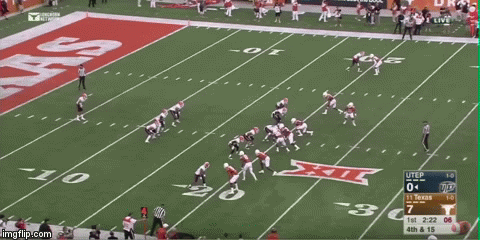 (Q4 - De Duvernay catch nullified by Off PI - still, good speed and catch. More to come from him this season)
With UT's first road game coming up in just a few days at Cal (maybe see you there?!), I'm looking forward to seeing how our pass defense holds up. The Lubbock Has-Beens (Dykes and Webb) have put up about 450 yards passing in their first two games. In particular, I'd love to see more pressure from a 4 man pass rush. We have 8 sacks on the year, 4 by DBs, 1 by LB, and 3 by DL. I'm looking at you Omenihu and Hughes/Hager.