Quick intro/disclaimer: I'm not an aspiring writer or journalist, and am no more qualified to analyze football than your average Joe who played high school football in Texas. I'm literally "just another Longhorn fan", but I'd like to share my UT football opinions on a weekly basis with GIFs for a more pleasurable viewing. (If anything just scroll down to the GIFs and ignore everything I say.)
Let's get to it. Week 1 was awesome - the greatest Longhorn home football game I've ever attended. I was an undergrad during the glory years of the mid 00's, so that's saying quite a bit. If you're like me, you've watched the highlights multiple times and the full game replay on LHN at least once.
I wanted to share my thoughts, opinions, and analysis of the game in a similar format as one of my favorite sports writers/radio hosts, Bob Sturm of DFW The Ticket and DFW Sportsday. He typically writes great recaps of Dallas Cowboys games and nice breakdowns of NFL prospects with GIFs inline to better explain his thoughts. Anyway, here goes.
As euphoria subsides ever so slightly and a pinch of hesitation over our #11 ranking in the AP poll creeps in, I can't help but question - Are we deserving? Is ND not that good? How optimistic should I be? After watching the game a couple more times, my answers are: Who cares, It's just an early season ranking. No, ND IS good. As optimistic as I want to be. It wasn't a fluke.
I've gathered my thoughts into three categories:
Things to Hang Our Hat On
,
Moving Forward
, and finally, er,
Finally
. I turned a lot of plays into GIFs to help explain my views that you may or may not have read, heard, or seen else where, but whatever, like I said, skip to the GIFs if nothing else.
Things to Hang Our Hat On
- Notre Dame is good: At least according to Kiper,
Notre Dame is littered with future NFL players
, and this list doesn't even include Kizer. Hats off to him, he is very good, will be playing on Sundays, and we're a little bit lucky Coach Kelly mis-managed his quarterbacks by ever playing Zaire. Again, Notre Dame was a quality opponent, and they played well. In fact, Texas lost the turnover, penalty, and special teams battles. (If you don't have ESPN Insider, he lists ND's LT, LG, DT, DE, MLB, and CB as top 10 players at their positions of draft eligible players.)
- Running game is legit: You heard this before the game, throughout the game, and likely since the game, but we have THREE very talented runners over 240 lbs, who like to punish defenders. Not only is our offensive line better (just watch the first series, and see how the Perkins/Hodges combo dominates on the right side), but we have depth for days at RB/QB2. You can't blame the Notre Dame 2nd level defenders (linebackers/safeties) for putrid tackle attempts on Swoopes after four quarters and one overtime of the 500 lb Foreman/Warren monster. We knew it coming in, but this run game is going to wear down defenses, and that won't change.
(Foreman - Q2)
(Warren - Q3)
(Swoopes - OT2)
- Malik is the man: Not much to add, except he's awesome, and everyone knows it. He'll be a top 10 pick similar to what Myles Jack and Jaylon Smith would've been if they didn't have their respective health issues. Fortunately, we have him for another year, so here are a few GIFs of his awesomeness that maybe the casual-est of fans might overlook.
(Malik sets the edge - Hager with the tackle for loss on the statsheet - Q1)
(Malik is FAST - runs down a smaller RB - Q1)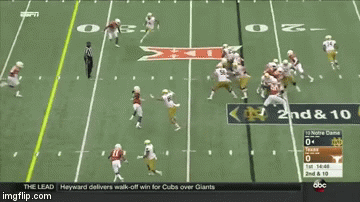 (Malik gets off the block and makes the tackle right before crucial stop - OT2)
Moving Forward
- Depth: Will any of our highly touted freshman become key contributors? Or maybe the better question is, how soon can they contribute? I'm interested in seeing some improvements at backup/rotation spots. There should be a lot of opportunity in the next two games for some younger guys to get playing time and prove themselves. Key spots I'll be looking at:
- Safety - Will Brandon Jones get playing time, and can Elliot supplant Hall?
- OL - Will any of the freshman (Okafor/Hudson) rotate in and can we get an improvement over Nickelson? There was significant drop off between Hodges and Nickelson at RT in my opinion. See the play before the INT when he gets pushed back 5 yards into the back field.
- LB - Will the Shark (McCullogh) or Fowler make an impact this year? I don't think the second unit of Cole #30, Freeman #35, or Hager #44 should see a ton of playing time in big games moving forward. They're not bad, but they're not impact players. Maybe one of these freshman will be.
- WR - Deep shots to Duvernay or jump balls to Collin Johnson?
- DT - Any of the 5 4-star DTs showing up will be a huge help
Not sure if this counts as depth, but having high quality role players round out your squad truly makes a good team great. Gotta give Jake Oliver some love. He's one of the few guys who wasn't on my radar before the game who made a few key plays like this one below.
(Oliver 3rd down catch - Q2)
- The new offense: It kind of reminds me of the old basketball adage, live by the three or die by the three. By no means am I blaming the disappearance of a 17 point lead on the new offense (it got us the lead to begin with) - it's a combination of several factors including a very quality opponent, an untimely mistake/questionable QB management (the INT), and the aforementioned offense. The opponent - we can't control. The mistake - happens (Moving forward, all drives should start with Shane). High octane offense - it's here to stay (thankfully). On that last point, when you have consecutive 3 and outs after a turnover with a very uptempo offense, you will tire out your defense to the point where guys like Malik are jogging around, or are catching their breath on the sideline. Not only was the defense tired, but (and this may just be poor conditioning in week 1) you could see a significant fatigue in many UT offensive lineman as the game wore on. It has major benefits as seen throughout the first half. In the first GIF below, you'll see how easy a block the lesser Nickelson has on Buechele's amazing pass to Heard solely because the defender can't get in position before the ball is hiked. Nickelson is likely in because of Hodges being tired, and it's still only the first half.
(Nickelson #75, RT, easy block - Q2)
But, here you'll see a tired Hodges #58 block air. I can't say for sure that his assignment was to block the guy over his left shoulder (who ended up making the play), but on the other view, Shackleford appears upset with him just as the play ends. Regardless, blocking nobody was likely not his assignment. This was a crucial 3rd down during the ND come back. (I bet he was in because the coaches realized they'd rather have a tired Hodges than a rested Nickelson)
(Hodges #58, RT, tired no block - Q4)
John Burt's hands: I really don't think it will be an issue, but as you can see in the second video below, he almost dropped his long touchdown catch. In case you missed it, he dropped a perfect pass by Shane on essentially the same play in the first quarter. He also dropped a deep pass in the spring game. As you see in the first video, he can catch the ball with his hands with a defender barreling down on him, but for some reason, the wide open/full sprint/over-the-shoulder catch appears to give him fits. I hope it's mental and he gets over it, and not something that rears its ugly side during a crucial moment down the road. But if it does, I hope Heard and Duvernay are ready and willing to pounce on the opportunity should it present itself.
(Burt catch 5 yd stop - Q1)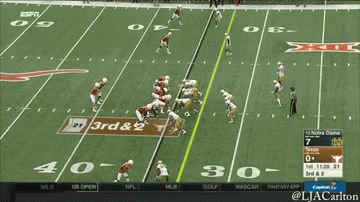 (Burt TD - almost dropped - Q3)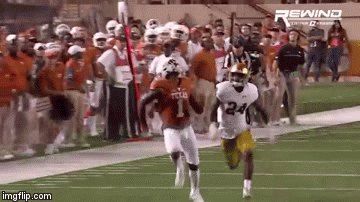 Finally
- Boo-shell: Obviously I've saved the best for last. He deserves all the thesaurusy accolades already thrown his way, and there are many a highlight to enjoy, but I'll leave you with 3 key plays from the last TD drive of regulation that prove that in addition to finally having a spectacularly accurate deep passer ...
... we have a fearless (albeit undersized) guy at the helm who bounces back from costly mistakes.
(Buechele pulls it for an 11 yd run - Q4)
... we have a guy who makes quick decisions and adjust his throws over pass rushers.
(Buechele pass to Warrick - Q4)
... we have a guy who makes the easy pitch for an easy catch when he should at a crucial time, something this fan base hasn't seen in 7 years...
Finally, we have a quarterback.
(Buechele pass to Foreman - Q4)