Quick intro/disclaimer: I'm not an aspiring writer or journalist, and am no more qualified to analyze football than your average Joe who played high school football in Texas. I'm literally "just another Longhorn fan", but I'd like to share my UT football opinions on a weekly basis with GIFs for a more pleasurable viewing. (If anything just scroll down to the GIFs and ignore everything I say.)
Week 7 - I guess it doesn't matter who's coaching, because winning in Manhattan is just something UT doesn't like to do. Mack Brown was 1-4 in Manhattan, and Charlie Strong is now 0-2, and that's how Charlie's record will end. That was the nail in the coffin, or 2nd or 3rd nail depending on your opinion. I personally think his invitation to leave was post-dated a few weeks ago.
I think at this point we're all a little numb and indifferent about what happens with this team moving forward
this
season. Sure, you always want to root for your team and you're excited when they win. But, saying it's an understatement that our expectations have been tempered is an understatement. (Apologies for getting all meta on you.) At any rate, these players (excluding seniors and probably Foreman) aren't leaving with Charlie, so we'd like to see some improved play and especially confidence from them.
So KSU's average team beat our average team in a very average game. Re-watching it was as boring and frustrating as watching it the first time, but here are a few of my thoughts with GIFs.
The O
The offense has definitely cooled down recently, and watching the same 4 plays over and over is less entertaining when you can't convert a 3rd down and struggle to finish drives. Think about it, we run a variation of 4 plays: run between the tackle, outside wr screen, wr stop (outside the hashes), wr go (outside the hashes). Maybe I'm being greedy, because watching Gilbert's offense over last year's turd-fense is so much easier on the eyes, but we're constantly leaving some meat on the bone with some of our unfinished drives and 3rd down play calls. Undecided if I'll miss Gilbert or not, but leaning towards probably not as I'm sure we'll have a similar offense next year with whoever we bring in.
Lack of variety
Obviously I'm being facetious about the 4 plays, but here are the ONLY 3 pass plays that were not thrown outside the hashes, and 2 of them were caught on the hash mark. Worst of all, the first one didn't come until there was 6 min left in the game.
(Q4 - Stop to Oliver)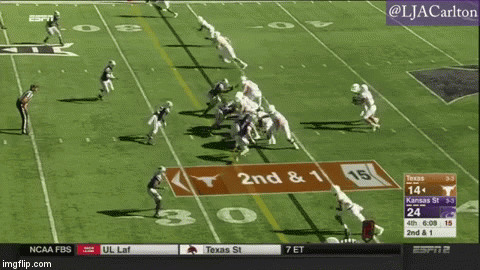 (Q4 - Middle screen to Foreman. Nice design with the C getting out in front. Why not throw more to Foreman? He's soooo good!)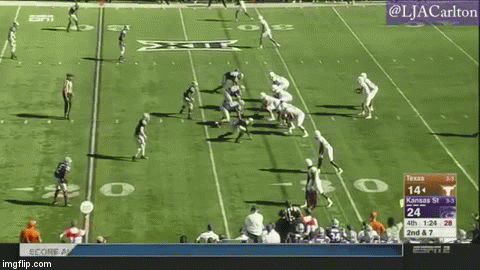 (Q4 - TD to Leonard. Again, barely on the hash. I guess he redeems himself here, but that 4th down drop on the slant was killer.)
RT's abused all day
It was a combination of Nickelson/Hodges average talent and #75 Jordan Willis supreme talent. Not surprisingly, he made the Hendricks pre-season watch list (award for the best DE). While both RT's fared rather poorly against 75, I thought Hodges played better, and I've said before that I think he's the better player. I know he had some injury issues earlier this season, but I would really like to see him out there as much as possible. Nickelson is playing more, and it's pretty frustrating to watch. See below:
(Q2 - Nickelson, 1st "ugh" play)
(Q2 - Nickelson, 2nd "ugh" play. There were several more, but for brevity sake I'm just showing 2.)
(Q4 - Hodges. Actually not as bad as Nickelson, and you can argue Buechele needs to step up in the pocket. Still, #75 making plays left and right.)
The D
More of the same - missed tackles, bad angles, poor to average coverage. While the ultimate responsibility still falls on Charlie, it seems the effort/confidence just isn't there with some of these guys - they've even said as much. I think a few of the things that really frustrated me in this game were the early jumps offsides, how easy it was for KSU to convert 3rd downs with passes, and the lack of pass rush lane discipline.
The questions I posed last week was if our D had made improvements or turned the corner. Considering they moved through our D like a hot knife through butter, I think we know the answer. Mind you, we also got bailed out by the goal line fumble and KSU not going for it on 4th and 2 in our half of the field when they most surely could have easily gotten it.
Here are a couple of there TDs if you need reminding.
(Q1 - Ertz 1st TD run. Hager has the QB on this play while the LB has the RB. He should have forced Ertz to pitch, but surprise, Hager is undisciplined and lets Ertz walk in.)
(Q2 - Ertz 2nd TD run. I don't think it's a draw, but the FB/RG get up field to block pretty quickly. Wheeler's terrible angle and Bonney's bad effort at tackling make this 19 yd run up the middle by the QB look especially easy. I think Freeman might have taken Wheeler's spot after this game - not sure it matters too much though.)