Published by David Macias
Follow @dmacUT
2018 season starts tomorrow and I'm at work like: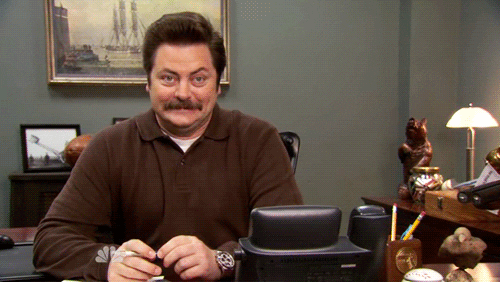 So, I went through why the O would be better, so not let me address the defense. We definitely lost a a few studs on the defense, but overall, I think we'll be just as good if not better this year. Replacing those guys won't be easy. However, I think the replacements could be very solid/product players, and the absence of those guys will be felt more at the beginning of the season.
The other big thing we have going for us on defense that we don't have going for us on the offense is a top-flight coordinator in Todd Orlando. (I'll refrain from a Tim Beck rant.)
Orlando always has these guys prepared, playing hard, and I love his schemes. Our defense should be one of the best in the nation, and a 10+ win season would definitely be a result of our D carrying our O.
Here's a great example of blitz design by the Defensive coaches:
I'm actually not as worried about losing Malik as I am Poona or even Holton Hill. Why? Gary Johnson. The dude is a stud and future NFLer. Here are a couple GIFs that show just how solid he was as a part-time starter last year. My one fear with the linebacking core is the depth. It'll be interesting tomorrow during the first half with Wheeler suspended - hopefully it doesn't hurt us against a heavy running offense in Maryland that sliced and diced us last year.
Great play recognition, reaction, and tackling all on display on this 3rd and short stop by Gary J.
If you've read up on Gary J, you know he's quite fast - I think he was a track star in high school. Very nice to have at LB. See him run down this RB behind the line.
This next guy might be the most talented player on our team. I'm serious. He's out-performed expectations from coming in as 3 star, and has just made so many variety of plays. He's got wide skill set and very good athleticism/agility for guy his size. He's an undersized DT that can play DT, DE and even linebacker. Just see the next 3 plays.
While he may not get the most attention or end up with the most accolades, I think Malcolm Roach could end up having the best NFL career on the team. Think James Harrison, but more agile and not quite as strong. Still he's too athletic and instinctive at 6'3 270 to not be a force at
multiple
positions.
Here he is essentially playing the 3 (maybe 5) technique - so, lined up in between the LG and LT. He dominates the LT and stops the RB at the line of scrimmage. That's a big boy play, no doubt.
Now, watch his awareness and speed to be able to run down a pretty athletic QB short of the first down marker.
Finally, watch him come off the edge, take on the RB (poor guy - can you imagine trying to pass block a 270 pounder with a 10 yd running start....eeee, not fun), and get the half sack. Man he's so awesome. Enjoy watching him this year, because I'm pretty sure it's his last in burnt orange, unfortunately.
Forgive the lack of copyediting. Ain't nobody got time fo dat.