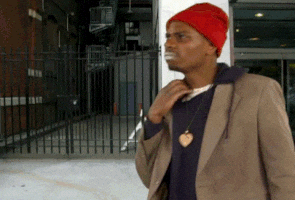 #same... except, I'm itching for real football. Fantasy Football prep and (banging head against wall emoji) preseason NFL is basically making the football itch worse. It's time. I need it.
Anyway, I saw one of my favorite sports writers, Bob Sturm, post a sort of "players to watch" (for the Cowboys) that he got from Blogging the Boys. So, I figured I'd give a similar take, but on the Horns, and obviously... with GIFs.
Here's my take on it.
Breakout Guy:
Caden Sterns - Safety
Comeback Kid:
Cade Brewer - Tight End
Rising Star:
Taquan Graham - Defensive End
Don't Forget About:
Josh Thompson - Cornerback
Needs to Rebound:
Collin Johnson - Wide Receiver (outside)
Darkhorse:
Samuel Cosmi - Offensive Tackle
Under the Radar:
Marquez Bimage - Defensive End
Breakout Guy:
Caden Sterns #7 - Safety
If you've been following the Horns recruiting, pre-season, or Spring game, you've likely heard of Sterns. He (and likely BJ Foster) is the next elite safety in a long line of elite safeties from DBU. It's sounding more and more like he's going to be starting as a true freshman opposite Brandon Jones. He can fly, has great ball skills, and apparently has great play recognition and understand the D. Be a hipster and say you knew about him before everyone else does in about 5 to 6 weeks. Don't have a GIF, but here's a
YouTube clip
to the All American game highlights of UT players which starts off with a Sterns' INT.
Comeback Kid:
Cade Brewer #80 - Tight End
Honestly, I'm not huge on Brewer, or any of our TEs for that matter. Freshman Epps seems like he could be a great receiving TE, and Leitao might have something too. Anyway, the coaches are pretty high on Brewer, and anything that keeps 8th year man Andrew Beck from seeing too many (hopefully no) snaps is a win in my book. Hopefully Brewer is fully back from his ACL tear last November and can provide solid blocking and pass catching on a consistent basis.
Rising Star:
Taquan Graham #49 - Defensive End
While the GIF below doesn't showcase any overly impressive move, the guy played well in his limited snaps as a freshman. He had a great spring, and will be starting at one of the DE spots. Should be fun watching Hager, Omenihu, Roach, and Graham get after QBs. I predict 5+ sacks from him this year. That may not seem like much, but see the aforementioned names - he'll have competition getting to the QB. He may not be the star of the pash rushers this year, but he'll definitely be going into next season with some preseason accolades.
(Finally, a Gif!)
Don't Forget About:
Josh Thompson #29 - Cornerback
Thompson is likely to start at a very important position on defense, nickel cornerback - the corner that covers the slot wr. Kris Boyd, Davante Davis, PJ Locke, and Brandon Jones are names you've seen get plenty of play, and guys like Sterns and other Freshman, BJ Foster, are getting a lot of hype, so it could be easy to forget about Josh Thompson. The coaches were big on him last year, and the former 4 star recruit has played well in the Spring and training camp - expect good things from him this year.
He mostly saw time on special teams last year, but here's a look at his athletic ability and solid awareness.
Needs to Rebound:
Collin Johnson #9 - Wide Receiver
Look, don't get me wrong, I like me some Collin Johnson. In fact, I think we should throw a fade to him at least once in every red zone possession we have. However, I couldn't help feeling like his production dropped off after his great end to '16 and start to '17 (including a monster game against USC).
He led our team in receptions and yards last year and looks like a future NFLer. Don't get me wrong, his production (or at times lack thereof) doesn't fall on #9's shoulders alone. Piss poor play calling and inconsistent QB play (especially on the long ball/fades) doesn't help his cause.
Regardless, I wanted to see how his number compared to other wrs, and once I saw he actually got 100+ targets last year (which was surprising to me), I compared the
TD total
,
Yards total
(divided by 100 to weight 100 yards similar to a TD), and
Completion %
(divided by 10 to weight similarly). As you can see below, for all 44 D1 wrs who received at least 100 targets last year, CJ fell near the bottom in production. If you add up all 3 of my weighted categories, he ended up 42nd of 44. Btw, I put an asterisk next to all the wrs who were drafted on day 1 or 2 of the NFL draft, or first 3 rounds.
CJs stats:
2 TDs - tied for second to last
765 yds (shown as 7.65) - rank #41 of 44
50% completion percentage (show as 5.0) - rank #37 of 44
When I say he needs to rebound, it's not that he didn't have a better sophomore year than freshman year, but he had 490 yds in the first 5 games last year, and just 275 yds in the last 7. I'd really like to see him with some more multi-TD games (like Tech '16 - both were great grabs) and 100+ yd games (2 in the first 3 games last year). I get that game situations will dictate more or less passing, and w's and l's are all that really matter. Still, he has the potential to get drafted in the first 3 rounds of the NFL draft, and I'd love to see his production get back to his first 8 or 9 games (late '16 / early '17) to make the potential a reality.
He showed it in the Spring game as seen below. Here's to hoping we see this through the season.
Darkhorse:
Samuel Cosmi #52 - Offensive Tackle
Currently backup offensive tackle as a Dark Horse.. fun, can't wait to read the rest. I know it's not sexy, but this former 3 star recruit (redshirt freshman) has been outperforming his recruiting grade in practice according to insiders, and looks like he could really push to start at right tackle. I'm not trying to say he's going to be like Connor Williams, also a former 3 star recruit (and wearer of the jersey # in the 50s), but who knows... maybe, hence, dark horse.
Under the Radar:
Marquez Bimage #42 - Defensive End
Bimage will likely rotate in behind Omenihu and Graham at DE. Back up DE's don't necessarily get a ton of sacks or notoriety, and thus, fly under the radar. And while he isn't pushing for a starting spot like Cosmi is (mainly because he's behind probably future NFLers while Cosmi isn't), having high quality backup is what the likes of Bama and Ohio State have. There won't be much drop off when the two starters need a breather or get shaken up, and that depth is one of the key things this team will need to get to 9+ wins.
If you made it this far, first - thanks! Second, follow me on twitter @dmacut as I'll tweet new posts there and likely other thoughts during away games. Stay tuned for more before and during the season - Hook 'em!
Forgive the lack of copyediting. Ain't nobody got time fo dat.