Quick intro/disclaimer: I'm not an aspiring writer or journalist, and am no more qualified to analyze football than your average Joe who played high school football in Texas. I'm literally "just another Longhorn fan", but I'd like to share my UT football opinions on a weekly basis with GIFs for a more pleasurable viewing. (If anything just scroll down to the GIFs and ignore everything I say.)
Week 8 - And the roller coaster continues. It was great to beat Baylor and their inflated #8 ranking to give them their first loss of the season. Watching the Foreman bros torch the BU defense by themselves was great. It was also nice to see some pass breakups. But lets not get too carried away, Baylor's only quality win is a home win against Okie St. Me thinks they will lose 2-3 more games. Regardless, our team fought hard (except in run D) and held on to this one at the very end (don't get me started on the nullified Malik TD).
We're 4-0 at home, and 0-4 anywhere else, so tomorrows game in Lubbock against a QB that could legitimately put 750 yds on us could be a decent measuring stick and really give us more vision into the future. Herman and U of H are looking down, and what if Charlie wins out, or even goes 7-5 and wins a bowl. I think the schedule is in Charlie's favor. I know I have already said I think he's gone at the end of the year, and I still think that's what is going to happen, but wins like these and the current crop of potential coaches keeps muddying the waters on what I want to happen. I think I just want it to be clear by end of season - 9-4 with a bowl win and he stays, or 5-7 and he's clearly out.
On to the game:
Offense
Again, the run game was off the charts, and I'm loving all the Foreman talk for Heisman. I thought the play calling and over all scheme was good, but I'm getting pretty tired of forcing Swoopes into the offense when the time doesn't call for it. He needs to be limited to the 18 wheeler package only in short yardage situations, and strictly those situations. Burt should only be in if he's getting a bomb thrown to him, and I'm fine if we don't even do that. Finally, can we add a few more wrinkles similar to the 2 passes to Beck that were successful. We're 8 games in to the season, our offense is very limited, and Buechele was here in the Spring. Is 2-3 wrinkles per week instead of what seems like 1 too much to ask? I guess you could say Swoopes at RB is a wrinkle, but I'm talking about new plays within our standard formations.
Speaking of Swoopes, the guy is not a tailback. Maybe he can eventually make an NFL roster as a TE or something, but the guy is not built for RB, and he was dancing as he got the hand-off every time.
(Q2 - Swoopes fumble. It was a fumble, we got lucky)
(Q2 - Johnson goes up and gets it. Finally, our 6'6" wr finally makes a play by using his height advantage. Hope to see more of it sooner rather than later.)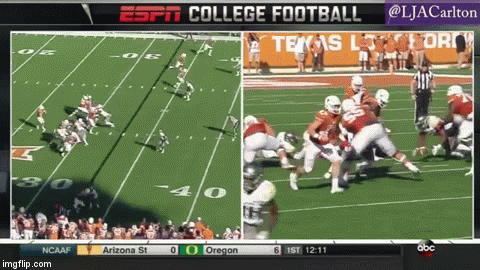 (Q2 - Foreman TD. Turns the corner on a DB, and doesn't even get touched. Awesome.)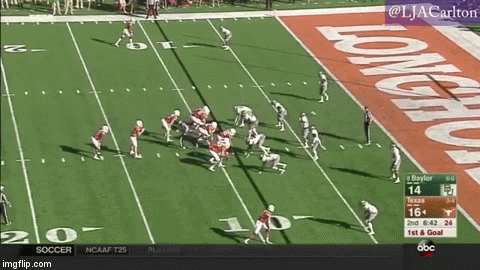 (Q4 - Foreman long run. I'm gonna miss watching this burnt orange 250 lb beast run like a gazelle.)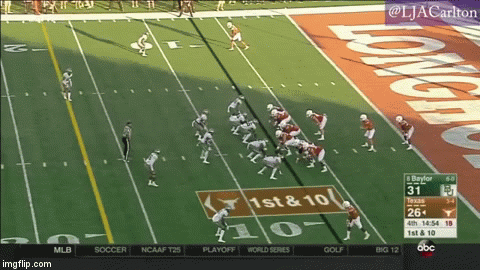 I've complained about it before, but look at what happens when you throw it over the middle. I get there might be a little more to read on some plays over the middle, and there's the fear of Buechele throwing picks, but this just has to be a bigger part of the offense than once a game.
(Q4 - Joe slant over the middle.)
(Q4 - Foreman sideline catch. Armanti may not go up and snag it with his hands, but his body control and spacial awareness is great on these deep throws down the sidelines. Watching him make these grabs just makes that drop against KSU that much more maddening.)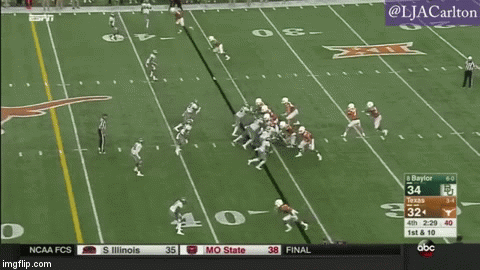 Defense
So our pass D actually played better, nice. But, we (and by we, I mean Haines) made Seth Russell look like Ezekiel Elliott. Giving up 400 yds on the ground is just ridiculous. This team just continues to tackle poorly and take bad angles. I admire Haines effort, but the guy just doesn't have the natural talent - the other guys, they need to play smarter/more aggressive. It's going to be very interesting watching us against Tech's O in Lubbock.
These next two plays were very interesting to me. The exact same play twice in a row except on different drives as the first one was an INT. First play - great coverage by Boyd and what an athletic play by Locke (more on him later). Second play - kudos to the BU coaching staff for seeing how easily the inside wr runs by Wheeler at the top of the screen. He does it again on the second play, and its an easy pitch and catch for 45 yds. I used to think Wheeler > Freeman, but lately I'm starting to think the opposite and would like to see Malik/Freeman out there together.
(Q1 - Boyd breakup, and Locke INT)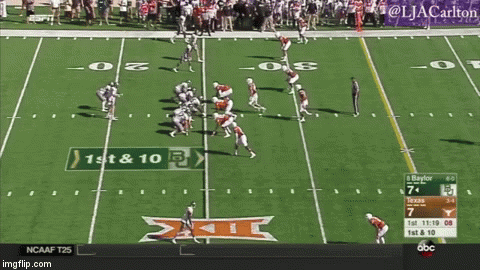 (Q1 - First play next drive. Same play, different result.)
(Q1 - Great PBU by Locke. Maybe this will build some confidence and will carry over. We can only hope.)
This happens at every level, but when corners don't look back for the ball, the result is almost always worse than when they do. In addition to being beat badly and busted coverages, our corners have not done a great job of looking back at the ball all year (and really last year too), and it is so maddening. Bonney (of all people) looks back at the last second and is able to make a play on the ball. On the second play below, Holton Hill (who's confidence is shot), does NOT look back and is unable to make a play on the ball - result, TD.
By the way, the argument for not looking back is that you might lose a step when turning around or lose where the wr is. CBs are taught to look back when the wr looks back, and use their hands/arms to feel where the wr is. It's not easy, and occasionally looking back will result in the CB getting beat, but so many worse things can happen if you don't look back: A. Virtually impossible to intercept the ball if you're not looking. B. Much more likely to get PI on an under thrown ball. C. Much harder to time deflecting the ball, and being able to adjust to it.
(Q2 - Bonney looks back last second and deflects the ball.)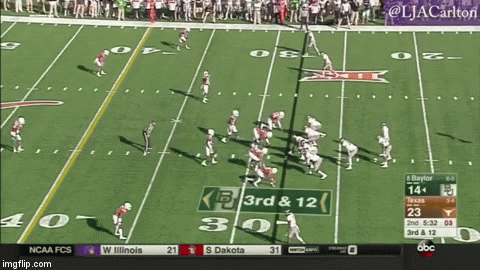 (Q2 - Hill doesn't look back, and the wr makes the grab right over his shoulder for a TD.)