Published by David Macias
Normally, I'll do more of a recap of the game, but this week I'm going to give you:
1. My feelings on Saturday in 3 GIFs
2. Pessimistic, realistic-ish, and optimistic outcomes for the rest of season
3. 3 things I didn't like and 3 things I did like on Saturday
1. These 3 Michael Scott GIFs sum up my Saturday
After starting off the game with 5 3-and-outs in the first 6 drives. Replace "you" with "the Longhorn".
Pretty much the whole game except the 2nd quarter, and when we briefly took the lead in the 3rd.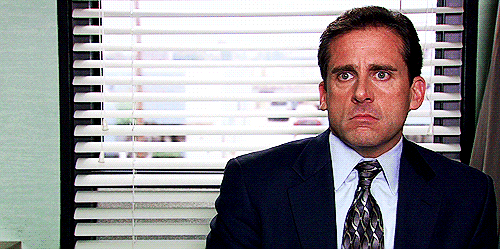 Having to face any non-UT fans and sadly even some UT fans.
2. Pessimist, optimist, or somewhere in the middle
I'm not going to tell you whether you should go glass half-empty or half-full from here on out. That's your call. However, I did take a shot at how our wins and losses would have to shape out depending on a pessimistic or optimistic outlook. Basically, I think the 6 games in orange are the toughest 6 we have remaining - 4 ranked teams and 2 tough road games. You could swap out W's and L's among those 6, but I just put an estimate to show you how it might shape out. Ex: I'm not saying we're for sure going to lose to OU, but they are currently the highest ranked team on our schedule.
Here's a little chart of what I think the likelihood is of our final regular season record and how that will make me feel. Basically, I think there's a 75% chance we go 7-5 or 8-4. Originally, I had us going 9-3 with a win over Maryland.
3. 3 things I didn't like from the loss at Maryland: (beyond the obvious: penalties, late game turnovers, and Tim Beck still being our OC)
Losing 3rd downs on both sides
- Texas was 20% on 3rd down (3/15)
- Maryland was 33% on 3rd down (6/18)
However, that number is really 40%, because UT committed two pass interferences on 3rd down - 3rd and long no less (One by D Davis and one by K Boyd). Both of those drives ended in FGs, so 6 points we helped give away, and we lost by 5 points. Just saying. I won't say we lost solely because of 3rd downs, but when you lose 20% vs. 40% in 3rd down conversions, it sure doesn't help.
DB play
I just mentioned the 2 egregious PIs, both of which were just CBs getting beat and then not turning around for under thrown balls that could have been INTs. Speaking of almost INTs, Kris Boyd - catch the ball! Throw in Kris Boyd getting badly beat on a quick slant (for 30+ yrs) 3 plays after his PI, BJ Foster with a bad roughing the passer (why push the QB in the face?), and the broken assignments on the 65 yard TD pass in the first quarter, and this DB group looked far from "DBU" quality.
Lack of pass rush
1 sack.
By CB Kris Boyd.
Not going to cut it.
Bonus thing I didn't like. Beck getting more TE play than Brewer:
See Brewer beat this LB to the inside even when the LB had inside leverage (meaning, the LB was lined up to the inside of him). I just don't see Beck running this type of route. Need to have Brewer out there as much as possible.
3 things I liked:
Let's be honest, it's hard to like anything when you lose a game by 5 points when you're a 13.5 point favorite. Still, I'm stomaching my real feelings to say some positive stuff here.
- WRs making big catches
I'll just show them to you:
Note on Duvernay's great TD catch. Sam almost overthrew him when had about 3-4 yard window to drop it in to. Thankfully he didn't, and Duvernay made the great full extension grab. Just pointing out accuracy isn't just completion percentage, which Sam's was lower than ideal again. Imagine if this was in the middle of the field - it would be a 40 yard gain, but not a catch and run for a TD.
I did like the accuracy by Sam on this throw, but also the body control by LJH to turn and catch it with his
hands.
I know LJH missed one later, but that was slightly behind him, but overall, I think he has a very nice set of mitts.
Finally, CJ's TD catch is what I hope we get to see once a game. Physical, big, good hands, and stays in bounds. Love it.
- Keontay Ingram
He played well and showed he deserves more PT and carries, but coaching got in the way. Funtastic.
Looked to me like he had the most burst or acceleration of all the RBs. See here.
Great vision and quick decision to plant that foot and break back to the left.
- We're playing Tulsa this week.
What's worse than starting off 0-1 with a loss to an unranked team, starting off 0-2 with losses to two unranked teams. I'm confident we'll get the home W against Tulsa. Hopefully it's a complete and utter blowout, or I'm going to start taking oil painting lessons on Saturdays. Lot of good Bob Ross videos on the YouTubes.
Excuse the lack of copy editing. Ain't nobody got time of dat!